Holiday houses Parun in Central Istria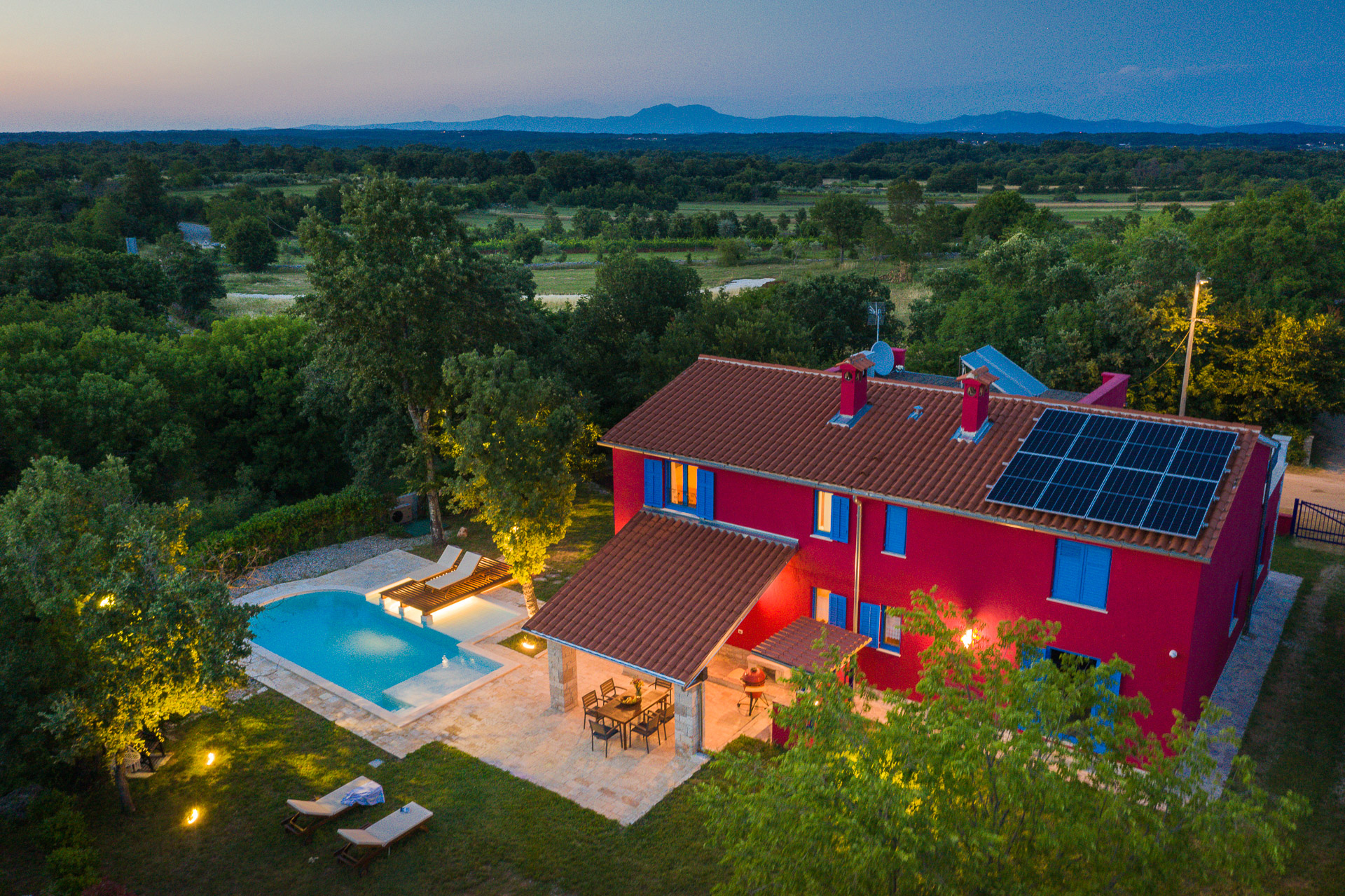 Our Villa Parun will move you in calm, private and peaceful surroundings while refreshing yourself in the swimming pool and feeling a gentle breeze lingering through the old oak trees.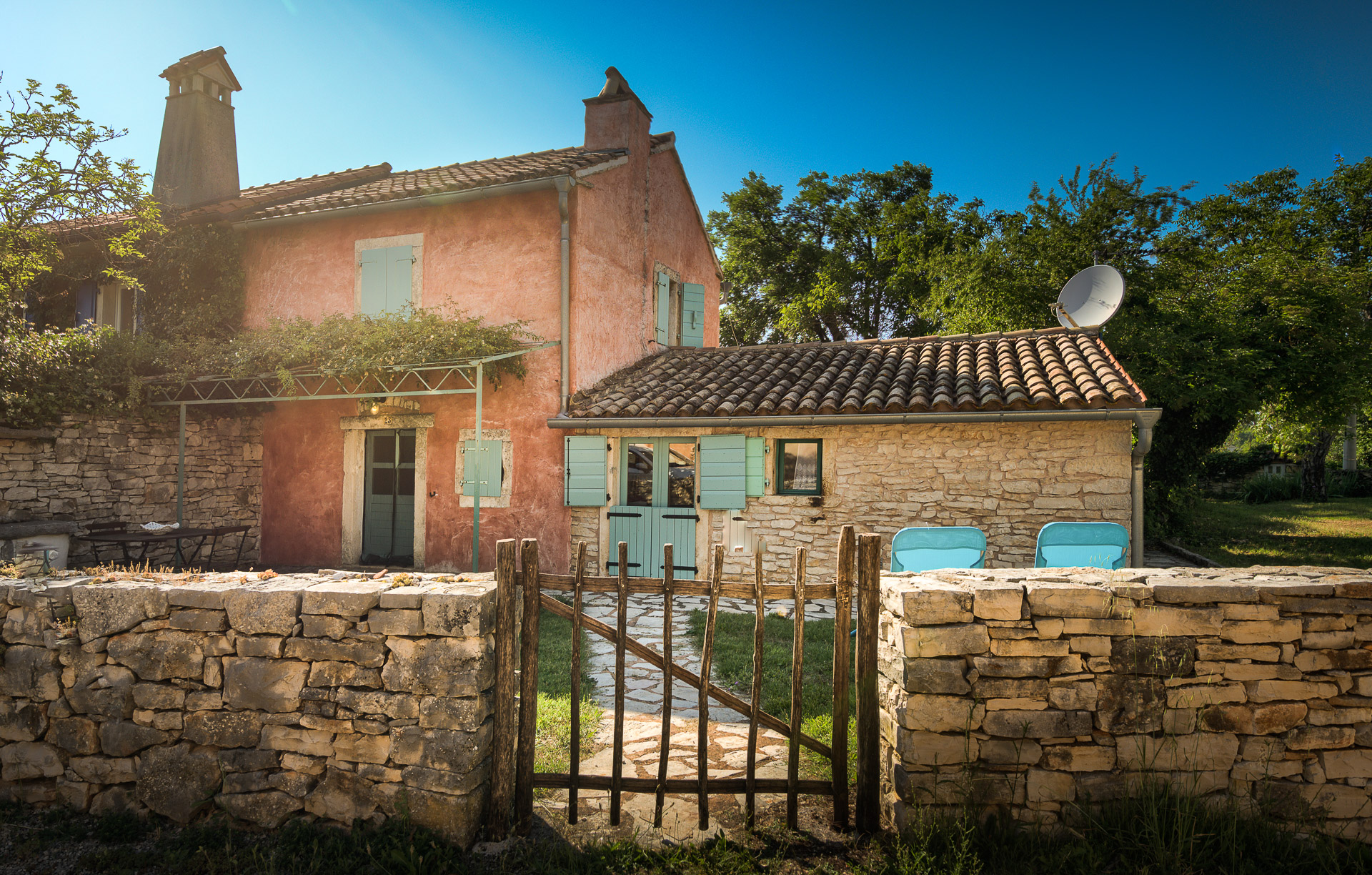 Visit our House Parun and enjoy the hidden gem of Istrian rural heritage.
Parun House in a small Istrian village Šajini is a byword for peace and quiet. This cozy house for two provides authentic experience of the Istrian village as it once was, ideal for "an escape from the city."
Restored using authentic materials, it has a traditional feel of belonging to a place. The original small house built back in the year 1907 had a kitchen with a fireplace and a first-floor bedroom. The house was annexed a comfy living room during the 2003 restoration performed strictly abiding by the principle of keeping its authentic shape with careful attention to detail.
Modest as it might appear in terms of its size, the house nevertheless offers all comfort one might look for in a contemporary home in harmony with tradition. Spacious land on which the house is sitting is ideal for recreation of its temporary residents. The courtyard has a fireplace just perfect for relaxing BBQs.
The location of the village of Šajini provides shelter from busy summer days in Istria. Beaches on the eastern and western Istrian coast are easily accessible, within twenty minute drive, the same distance it takes to reach Rovinj and Pula.
The exclusive Villa Parun situated in the small Istrian village of Šajini will gladly host and shelter you from the city crowds and reunite you with nature.
It has been renovated to provide its temporary residents with maximum comfort, the "home away from home" feeling where you can luxuriate in your personal jacuzzi bathtub and sauna. All of your tensions and daily stresses will melt away.
On upper floor there is master bedroom with en suit bathroom and leisure room with house cinema and pinball machine, leading to big terrace where you can enjoy night breeze while looking house cinema or just relaxing by listening busy night crickets singing…
The swimming pool is the absolute highlight of this villa, endowing it with an aura of peace and nature. The feeling is complete with quiet leafy environment reflected in the crystal-clean water.
Staying at this place where time seems to stand still, amongst the soothing Istrian countryside, chaos and haste of everyday life will become distant memories. Let your body and mind rejuvenate and rediscover peace and harmony.
Pure, crystalline water. All around, silence reigns, and the sun warms the environment and the heart, coloring the water with countless tones.
This sensation of harmony will accompany you during your days of poolside relaxation. Not a traditional pool, but a little corner of paradise; the design of this incredible oasis of peace was in fact inspired by the natural environment.
This unique experience will make you appreciate our philosophy and our values even more.
The distance between House Parun and Villa Parun is 200 meters. Small, but well equipped grocery shop is 50 meters away. Nearest restaurant "Šajinka" is within 2 minutes walk. The closest beach is in Krnica, 10 km from Šajini. Beaches of east and west Istrian coast are easily accessible within 20 minutes drive. Big supermarket with petrol station and ATM machine is in Vodnjan, 13 km from Šajini.
GPS coordinates – House Parun:
Lat: 45° 1'58.90″N (45.0324582 N)
Lon: 13°56'28.13″E (13.9421457 E)
GPS coordinates – Villa Parun:
Lat: 45° 1′ 54.962"N (45.034537 N)
Lon: 13° 56′ 32.644"E (13.944534 E)
Distance: Beach 10km; Vodnjan 13km; Rovinj 34km; Pula 22km; Airport 19km; Rovinj 34km; Rijeka 88km; Trieste 114km; Zagreb 248km